Nature Pack
"The blooming of the flowers makes the world beautiful."
Welcome to the Nature Pack! This Pack is the one that is closest to nature. The wolves that are born in this Pack are often born with special gifts that help them to control or summon a special element or plant. There are a variety of different wolves here, both winged and nonwinged. We hope you enjoy the Nature Pack!
MembersAlpha Female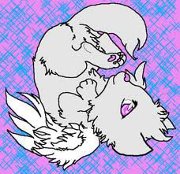 Lilyblossom (Blossom Powerpuff):
Hello, my name is Lillyblossom, and I am the youngest in my family!. I am a wolf pup with wings. I have been separated from my family and my pack, and I have found the Wind Pack. I have 3 sisters and 1 brother, and they were born on the last day of winter at 11:00. I was born an hour later, which was at 12:00, so I was born on the first day of spring! I have special powers, like every time I howl it makes flowers bloom! I am very graceful and shy.
Alpha Male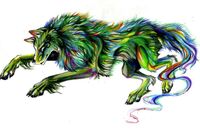 Leaf(LeafyGreenShaymin):
Being added soon.
Note:This Pack is currently accepting members! These positions needed: Healer, Beta's, Omega's, and Pups!